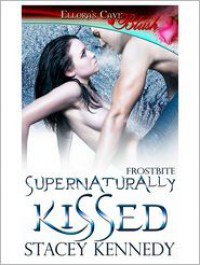 Supernaturally Kissed by Stacey Kennedy
This is the first book in the Frostbite series, Stacy is an excellent author/writer. I loved this story and Tess, the characters are great, story well written its one of those books you don't stop reading till you reach the end.
Tess has a gift she see's ghosts...the funny part is she totally tries to ignore them. Hiding her gift from everyone all Tess wants is a normal life. But then she meets Kipp, Kipp was a police officer who was shot and died in the line of duty. Tess knows she has to help him so he can cross over. Working with the police and Kipp to solve a cold case and Kipp's murder she starts to develop feelings for Kipp.
Can she help Kipp solve these cases and how will she handle saying goodbye to the man/ghost she seems to be falling in love with.
Supernaturally Kissed is full of mystery/suspense and few hot scenes. Stacey Kennedy has me hooked on this series and cannot wait to start the next book Demonically Tempted (Frostbite #2).
I have rated it a 4 but deserves a 4.5, I highly recommend this series to anyone who loves a bit of mystery, sexy ghosts and great characters.